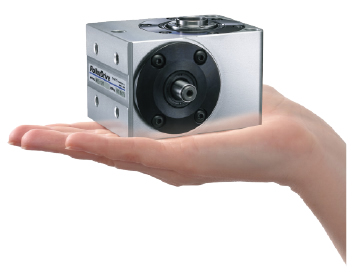 World's smallest zero-backlash positioner
With the RollerDrive MR Series, a motor is mechanically reduced while maintaining, and stability. An output motion faithful to input control commands can be attained by achieving zero-backlash with our unique preloaded mechanism. This is a revolutionary Ultra Small FA motion control unit, which combines rolling transmission for high-efficiency and elimination of wear, an orthogonal layout of input and output axes for greater compactness, and standard features like a hollow shaft for greater ease-of-use.
MR Series(3 models)
| MR20 | MR25 | MR32 |


Ultra small, zero backlash positioner
Ultra small speed reducer that eliminates backlash with its own
adjustable preload on the roller gear cam and roller follower.
Maintenance free
Since there is no deterioration in the precision of the internal parts due to aging, and the unit has excellent durability, there is no need for periodic calibration or adjustment.
There is a wide range of motors to choose from
A wide range of servo and stepping motors can be installed.
(Motors from various motor manufacturers can be used)
Mounts in any position
The MR main housing can be mounted in any direction, allowing you to create various motions.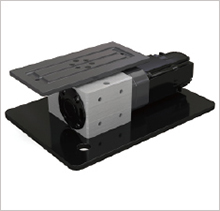 Alignment table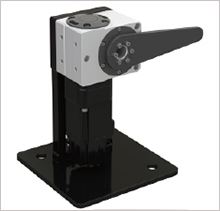 Turning and swinging arms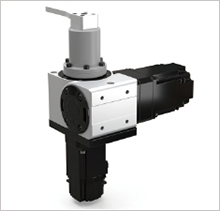 Handling unit

Grease lubrication type
Model
MR20
MR25
MR32
Gear ratio
10
12
12
Upper limit torque at start/stop
N・m
2.7
5.2
10.0
Max. input speed*
min-1
2,000
Rated input speed*
min-1
1,500
Angular repeatability accuracy
arc sec or less
±15
Surface runout
μm or less
50
Weight (Motor not included)
kg
1.0
1.3
2.1
*If you want to rotate the output continuously for 360 ° or more, please contact us in advance.