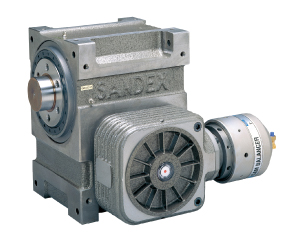 The Cam Balancer is used on the input shaft of a SANDEX indexer to create a near-perfect indexing motion. It improves the input characteristics from motor to input shaft, and the output characteristics in terms of positioning accuracy. This is done by creating torque in the opposite phase of the natural torque that occurs on the input. This cancels the fluctuating torque, which is believed to be the source of play and irregular rotation in the input drive system.

Normalizes Torque
The Cam Balancer normalizes input torque and reduces peak torque.
Contributes to Motor Size Reduction
Less peak torque means a smaller peak current, which, in turn, means a smaller size motor can be used to drive the input.
Ideal for High-accuracy, High-speed Applications
Because there is no irregular rotation caused by torque fluctuations, the indexer can be used for applications that demand accuracy and speed.