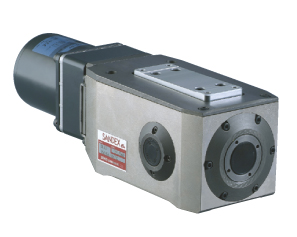 The SL Series is a cam-actuated linear parts feeder. The precise motion generated by the cam reliably feeds parts to the next process. The use of a rigid cam for driving this motion eliminates the vibratory noise for truly silent operation. You can develop a parts feeding station that performs storage, sorting, and recycling of parts using a single unit.


Suitable for a Wide Variety of Feed Rates
The model ellipsoidal vibration allows feeding and conveying at high speeds, with high efficiency at various feed rates.
Smooth Conveyance, Prevents From Damaging Workpieces
The feeder conveys workpieces smoothly, improving the success rate for complex sorting tasks.
High Level of Stability
The amplitude is consistent regardless of speed or work volume.
Low Noise
The vibration control mechanism reduces operating noise for a dramatically improved work environment.

Conveyance of LED parts
Conveyance of motor core parts
Fixed volume feeding of metal polishing agent
Orientation, feeding, and other handling tasks for various parts

SL Series Specifications
Model
SL25
SL90
SL200
Weight of Applicable Chute
Max 2 kg (Note)
Max 3 kg (Note)
Max 8 kg
Max 10 kg (Note)
Amplitude in Feed Direction
0.6mm, 1.2mm
0.5mm, 1.0mm
1.0 mm, 1.5 mm
1.5 mm, 2.0 mm
Amplitude in Vertical Direction
-
0.2mm, 0.4mm
0.2 mm, 0.4 mm
0.2 mm, 0.4 mm
Drive
3-phase induction geared motor
Motor Capacity
25 W
90 W
200 W
Motor Power Supply
200 VAC, 3 phase
Frequency Control System
Variable frequency drive
Product Weight
9 kg
18 kg
40 kg
Conveyance Method
Non-linear horizontal vibration
Horizontal elliptical vibration
Lubrication
Oil bath
Operating Environment
5 to 40℃ (ambient temperature), 85% max humidity (no dew condensation). No splash up of water, oil, or chemicals, and no dust
(Note) The allowable weight of the chute depends on the vibration frequency.