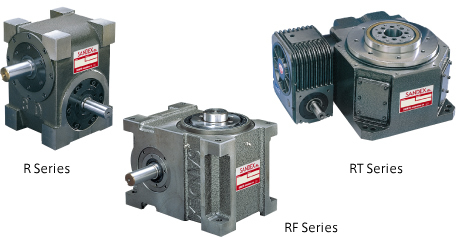 This is our most commonly used reducer. It uses a combination of roller gear cam and cam followers to meet the two most desirable requirements, greater speed and accuracy. Available in input to output center distances from 45 to 180 mm.

Wide Product Lineup
Available in either shaft, flange, or table output configurations.
Zero Backlash
No play in the output ensures the transfer of motion from the input shaft to the output shaft.
Rotating Axis Direction Conversion
The input and output shafts are perpendicular, which can be used to convert the rotating axis by 90°.
Flexible Mounting Positions
Index mounts in any position with gearmotor mounting on either side of the index.

Processing equipment for automotive parts
Electronic components inspection machines
Reducer drive for various automatic machinery

The R Series has the same specifications as the D Series, the RF Series the same as the DF Series, and the RT Series the same as the DT Series.



>> RW Series
Large size RollerDrive
High precision, large torque

>> RE Series
Affordable RollerDrive
General-purpose, various sizes