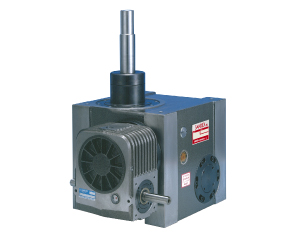 The F series is our high-end pick & place unit. It is driven by two independent roller gear cams. The use of a separate lift cam and oscillating or indexing cam gives the unit excellent rigidity, while allowing for flexible timing schemes.

Extremely Flexible Design
Max lift: 80 mm, Max oscillating angle: 90°
Extremely Rigid, Solid Motion
Uses two roller gear cams for solid, stable motions.
Flexible Mounting Positions
Index mounts in any position with gearmotor mounting on either side of the index.

Transfer mechanism in manufacturing equipment for automotive parts
Conveying mechanism in food container and coating equipment
Conveying mechanism for various automatic machinery

8F Torque Transfer Capacity Table (Oscillating Handlers)
Oscillating Angle
ψ
(deg)
Index Period
θ0
(deg)
Static Load
Ts
(N・m)

Dynamic Load To (N・m)


Input Speed N (rpm)
Input Shaft Friction
Torque Tx
(N・m)
20
30
40
50
60
15
35
182.3
86.2
76.4
70.6
65.7
62.7
24.5
45
241.1
111.7
99.0
91.1
85.3
80.4
60
259.7
110.7
98.0
90.2
84.3
79.4
30
55
161.7
66.6
59.8
54.9
51.0
48.0
75
225.4
90.2
79.4
72.5
68.6
64.7
90
241.1
91.1
80.4
73.5
68.6
65.7
45
75
152.9
57.8
51.0
47.0
44.1
41.2
90
203.8
76.4
67.6
62.7
58.8
54.9
100
214.6
78.4
69.6
63.7
59.8
56.8
60
100
184.2
67.6
59.8
54.9
51.0
48.0
110
195.0
68.6
60.8
55.9
52.9
50.0
120
203.8
70.6
62.7
56.8
53.9
51.0
90
110
124.5
42.1
38.2
34.3
32.3
30.4
120
132.3
44.1
39.2
36.3
33.3
31.4
135
143.1
46.1
41.2
37.2
35.3
33.3
8F Carrying Capacity Table
Lift
LT
(mm)
Index Period
θ0
(deg)

Dynamic Allowable Load Wo(N)


Input Speed N (rpm)
20
30
40
50
60
20
23
215.6
168.6
99.0
52.9
22.5
40
294.0
294.0
294.0
269.5
206.8
25
25
205.8
159.7
91.1
47.0
17.6
40
294.0
294.0
294.0
229.3
169.5
30
30
221.5
176.4
107.8
60.8
28.4
47
294.0
294.0
294.0
247.0
186.2
35
35
234.2
190.1
121.5
73.5
39.2
45
294.0
294.0
280.3
204.8
148.0
40
40
245.0
201.9
133.3
84.3
49.0
54
294.0
294.0
294.0
236.2
177.4
45
45
253.8
210.7
143.1
94.1
57.8
55
294.0
294.0
294.0
219.5
162.7
50
50
294.0
294.0
241.1
170.5
118.6
65
294.0
294.0
294.0
251.9
193.1
11F Torque Transfer Capacity Table (Oscillating Handlers)
Oscillating Angle
ψ
(deg)
Index Period
θ0
(deg)
Static Load
Ts
(N・m)

Dynamic Load To (N・m)


Input Speed N (rpm)
Input Shaft Friction
Torque Tx
(N・m)
20
30
40
50
60
15
25
236.2
113.7
100.9
92.1
86.2
81.3
24.5
35
333.2
170.5
150.9
138.2
129.4
122.5
45
333.2
164.6
146.0
134.3
125.4
118.6
30
35
203.8
88.2
78.4
71.5
67.6
63.7
45
326.3
139.2
123.5
112.7
105.8
100.0
60
333.2
140.1
123.5
113.7
105.8
100.9
45
50
198.9
77.4
68.6
62.7
58.8
55.9
65
322.4
122.5
108.8
100.0
93.1
88.2
75
333.2
124.5
109.8
100.9
94.1
89.2
60
65
196.0
70.6
62.7
57.8
53.9
51.0
90
326.3
112.7
100.0
92.1
86.2
81.3
100
333.2
113.7
100.9
92.1
86.2
82.3
90
97
196.0
63.7
56.8
51.9
48.0
46.1
115
212.7
65.7
58.8
53.9
50.0
47.0
125
221.5
66.6
58.8
53.9
51.0
48.0
11F Carrying Capacity Table
Lift
LT
(mm)
Index Period
θ0
(deg)

Dynamic Allowable Load Wo(N)


Input Speed N (rpm)
20
30
40
50
60
20
23
323.4
250.9
143.1
72.5
30
392.0
333.2
224.4
145.0
87.2
40
392.0
392.0
392.0
384.2
291.1
30
28
312.6
241.1
136.2
66.6
35
380.2
312.6
204.8
127.4
71.5
45
392.0
392.0
392.0
344.0
252.8
40
32
299.9
230.3
128.4
60.8
40
370.4
302.8
197.0
120.5
66.6
50
392.0
392.0
392.0
323.4
234.2
50
36
294.0
226.4
125.4
58.8
45
365.5
298.9
195.0
119.6
65.7
55
392.0
392.0
392.0
311.6
224.4
60
40
292.0
225.4
125.4
59.8
50
362.6
297.9
195.0
120.5
66.6
60
392.0
392.0
392.0
305.8
219.5
70
43
284.2
218.5
120.5
55.9
55
362.6
298.9
197.0
123.5
69.6
65
392.0
392.0
392.0
303.8
217.6
80
46
278.3
213.6
117.6
53.9
60
363.6
300.9
199.9
126.4
72.5
70
392.0
392.0
392.0
302.8
217.6