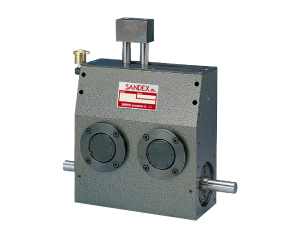 The GV Series offers many features in a compact design, including flexible timing schemes. Several peripheral units are available, such as miter gear boxes to drive from any direction, to meet application-specific conditions.

Flexible Stroke Lengths
60 mm by 60 mm stroke (for the 6GV) provides plenty of room for designing pick & place motions.
High Accuracy
Repeatability ±0.02 mm

End units for free flow conveyors
Conveying mechanism for various automatic machinery

6GV Carrying Capacity Table (Stroke I)
(Mounting positions 1, 2, 3, and 4)
Stroke I
ST

I

(mm)
Minimum Index Period
θ

I

(deg)

Dynamic Allowable Load Wo(N)


Input Speed N (rpm)
Input Shaft
Friction Torque
T

X

(N・m)
10
20
30
40
50
60
70
80
5
22
30
40
147.0
147.0
147.0
141.1
142.1
143.1
120.5
121.5
122.5
104.9
106.8
107.8
86.2
94.1
95.1
69.6
81.3
85.3
54.9
69.6
76.4
45.1
59.8
67.6
(6.9)
10
30
40
50
147.0
147.0
147.0
128.4
129.4
130.3
108.8
109.8
110.7
80.4
95.1
96.0
59.8
82.3
84.3
46.1
68.6
74.5
36.3
55.9
65.7
29.4
46.1
57.8
15
37
45
55
147.0
147.0
147.0
121.5
122.5
123.5
93.1
102.9
103.9
65.7
83.3
89.2
49.0
62.7
77.4
37.2
50.0
64.7
29.4
40.2
52.9
24.5
32.3
44.1
20
43
50
60
147.0
147.0
147.0
115.6
116.6
117.6
80.4
96.0
98.0
56.8
68.6
83.3
42.1
51.9
64.7
32.3
40.2
51.9
25.5
32.3
42.1
20.6
26.5
34.3
25
48
60
70
140.1
141.1
142.1
108.8
109.8
110.7
71.5
92.1
93.1
50.0
65.7
79.4
37.2
50.0
60.8
28.4
39.2
48.0
22.5
31.4
39.2
18.6
26.5
32.3
30
52
60
70
135.2
136.2
137.2
100.9
105.8
106.8
63.7
75.5
89.2
45.1
53.9
64.7
33.3
40.2
49.0
25.5
31.4
39.2
20.6
25.5
31.4
16.7
20.6
26.5
35
57
65
75
130.3
131.3
132.3
94.1
101.9
102.9
59.8
69.6
81.3
42.1
49.0
58.8
31.4
37.2
45.1
24.5
29.4
35.3
18.6
23.5
28.4
15.7
18.6
23.5
40
61
70
80
125.4
126.4
127.4
87.2
98.0
99.0
54.9
64.7
75.5
39.2
46.1
53.9
29.4
34.3
41.2
22.5
27.4
32.3
17.6
21.6
26.5
14.7
17.6
21.6
45
64
75
85
121.5
122.5
123.5
80.4
95.1
96.0
51.0
61.7
70.6
36.3
44.1
51.0
26.5
33.3
38.2
20.6
25.5
30.4
16.7
20.6
24.5
12.7
16.7
20.6
50
68
80
90
116.6
118.6
119.6
76.4
91.1
93.1
48.0
58.8
66.6
34.3
42.1
48.0
25.5
31.4
36.3
19.6
24.5
29.4
15.7
19.6
23.5
12.7
15.7
19.6
55
71
80
90
112.7
114.7
115.6
72.5
82.3
89.2
46.1
51.9
59.8
32.3
37.2
43.1
23.5
28.4
32.3
18.6
21.6
25.5
14.7
17.6
20.6
11.8
13.7
16.7
60
75
90
100
108.8
111.7
115.6
69.6
84.3
90.2
44.1
53.9
60.8
31.4
39.2
44.1
22.5
29.4
33.3
17.6
22.5
26.5
13.7
18.6
21.6
11.8
14.7
17.6
(Mounting positions 5 and 6)
Stroke I
ST

I

(mm)
Minimum Index Period
θ

I

(deg)

Dynamic Allowable Load Wo(N)


Input Speed N (rpm)
Input Shaft
Friction Torque
T

X

(N・m)
10
20
30
40
50
60
70
80
5
22
30
40
147.0
147.0
147.0
121.5
124.5
127.4
102.9
104.9
106.8
89.2
91.1
92.1
70.6
78.4
79.4
54.9
65.7
69.6
42.1
53.9
60.8
32.3
44.1
51.9
(7.8)
10
30
40
50
147.0
147.0
147.0
108.8
111.7
114.7
91.1
93.1
95.1
75.5
80.4
80.4
57.8
66.6
68.6
44.1
53.9
58.8
33.3
44.1
50.0
24.5
35.3
42.1
15
37
45
55
147.0
147.0
141.1
101.9
104.9
107.8
84.3
86.2
88.2
65.7
71.5
73.5
49.0
57.8
61.7
37.2
46.1
51.0
28.4
36.3
42.1
20.6
28.4
35.3
20
43
50
60
124.5
129.4
134.3
96.0
99.0
101.9
79.4
81.3
82.3
56.8
65.7
68.6
42.1
51.9
55.9
32.3
40.2
46.1
25.5
31.4
37.2
18.6
23.5
30.4
25
48
60
70
116.6
121.5
126.4
90.2
93.1
95.1
71.5
77.4
77.4
50.0
62.7
64.7
37.2
50.0
53.9
28.4
39.2
44.1
22.5
31.4
36.3
15.7
24.5
29.4
30
52
60
70
112.7
117.6
121.5
86.2
89.2
91.1
63.7
71.5
73.5
45.1
53.9
59.8
33.3
40.2
49.0
25.5
31.4
39.2
20.6
25.5
31.4
13.7
19.6
24.5
35
57
65
75
106.8
111.7
116.6
85.3
86.2
87.2
59.8
67.6
69.6
42.1
49.0
56.8
31.4
37.2
45.1
24.5
29.4
35.3
18.6
23.5
28.4
12.7
17.6
22.5
40
61
70
80
102.9
107.8
111.7
80.4
82.3
83.3
54.9
64.7
66.6
39.2
46.1
53.9
29.4
34.3
41.2
22.5
27.4
32.3
17.6
21.6
26.5
11.8
16.7
20.6
45
64
75
85
98.0
102.9
107.8
76.4
79.4
80.4
51.0
61.7
63.7
36.3
44.1
51.0
26.5
33.3
38.2
20.6
25.5
30.4
15.7
20.6
24.5
9.8
15.7
19.6
50
68
80
90
94.1
99.0
103.9
73.5
76.4
77.4
48.0
58.8
61.7
34.3
42.1
48.0
25.5
31.4
36.3
19.6
24.5
29.4
14.7
19.6
23.5
8.8
14.7
18.6
55
71
80
90
90.2
95.1
100.0
69.6
72.5
73.5
46.1
51.9
58.8
32.3
37.2
43.1
23.5
28.4
32.3
18.6
21.6
25.5
13.7
17.6
20.6
7.8
12.7
16.7
60
75
90
100
93.1
98.0
100.9
66.6
70.6
74.5
44.1
53.9
59.8
31.4
39.2
44.1
22.5
29.4
33.3
17.6
22.5
26.5
12.7
18.6
21.6
7.8
13.7
17.6
6GV Carrying Capacity Table (Stroke II)
(Mounting positions 1, 2, 5, and 6)
Stroke II
ST

II

(mm)
Minimum Index Period
θ

II

(deg)

Dynamic Allowable Load Wo(N)


Input Speed N (rpm)
Input Shaft
Friction Torque
T

X

(N・m)
10
20
30
40
50
60
70
80
5
21
30
40
147.0
147.0
147.0
140.1
141.1
142.1
119.6
120.5
121.5
100.9
104.9
105.8
75.5
91.1
93.1
58.8
77.4
82.3
46.1
65.7
72.5
37.2
55.9
64.7
(6.9)
10
29
40
50
147.0
147.0
147.0
125.4
127.4
130.3
99.0
107.8
109.8
69.6
94.1
94.1
51.9
78.4
82.3
40.2
62.7
71.5
31.4
51.0
62.7
25.5
42.1
53.9
15
36
45
55
147.0
147.0
147.0
121.5
122.5
123.5
82.3
98.0
102.9
57.8
76.4
87.2
43.1
57.8
74.5
33.3
45.1
58.8
26.5
36.3
48.0
20.6
30.4
40.2
20
41
50
60
147.0
147.0
147.0
110.7
112.7
116.6
69.6
88.2
97.0
49.0
62.7
78.4
36.3
47.0
59.8
27.4
37.2
47.0
21.6
29.4
38.2
17.6
24.5
32.3
25
46
55
65
142.1
143.1
144.1
99.0
107.8
111.7
62.7
77.4
92.1
44.1
54.9
67.6
32.3
41.2
51.0
25.5
32.3
40.2
19.6
26.5
33.3
15.7
21.6
27.4
30
50
60
70
137.2
138.2
139.2
90.2
102.9
106.8
56.8
70.6
83.3
39.2
50.0
59.8
29.4
37.2
46.1
22.5
29.4
36.3
17.6
23.5
29.4
14.7
19.6
24.5
35
54
65
75
131.3
132.3
133.3
83.3
101.9
102.9
78.4
83.3
85.3
36.3
46.1
54.9
27.4
35.3
42.1
20.6
27.4
33.3
16.7
21.6
26.5
12.7
17.6
22.5
40
58
70
80
127.4
128.4
129.4
78.4
96.0
100.0
49.0
61.7
71.5
34.3
44.1
51.0
25.5
33.3
39.2
19.6
25.5
31.4
15.7
20.6
25.5
12.7
16.7
20.6
45
62
70
80
123.5
124.5
125.4
74.5
85.3
96.0
47.0
53.9
62.7
33.3
38.2
45.1
24.5
28.4
34.3
18.6
22.5
26.5
14.7
17.6
21.6
11.8
14.7
17.6
50
65
75
85
119.6
120.5
121.5
70.6
82.3
93.1
44.1
51.9
59.8
31.4
37.2
43.1
22.5
27.4
32.3
17.6
21.6
25.5
13.7
17.6
20.6
10.8
13.7
16.7
55
68
75
85
115.6
116.6
117.6
66.6
74.5
84.3
42.1
47.0
53.9
29.4
33.3
39.2
21.6
24.5
29.4
16.7
19.6
22.5
12.7
15.7
18.6
10.8
12.7
14.7
60
72
80
90
111.7
113.7
114.7
64.7
72.5
82.3
41.2
46.1
52.9
28.4
32.3
38.2
21.6
24.5
28.4
16.7
18.6
22.5
12.7
14.7
17.6
9.8
11.8
14.7
(Mounting positions 3 and 4)
Stroke II
ST

II

(mm)
Minimum Index Period
θ

II

(deg)

Dynamic Allowable Load Wo(N)


Input Speed N (rpm)
Input Shaft
Friction Torque
T

X

(N・m)
10
20
30
40
50
60
70
80
5
21
30
40
147.0
147.0
147.0
112.7
117.6
119.6
93.1
96.0
98.0
77.4
81.3
82.3
57.8
67.6
70.6
41.2
54.9
59.8
28.4
43.1
50.0
18.6
33.3
41.2
(7.8)
10
29
40
50
147.0
147.0
143.1
98.0
102.9
106.8
81.3
84.3
86.2
63.7
70.6
71.5
46.1
55.9
58.8
31.4
44.1
49.0
20.6
33.3
39.2
11.8
24.5
31.4
15
36
45
55
127.4
132.3
135.2
96.0
98.0
100.0
76.4
78.4
79.4
56.8
62.7
64.7
40.2
48.0
51.9
27.4
35.3
41.2
16.7
25.5
32.3
8.8
17.6
24.5
20
41
50
60
117.6
122.5
127.4
90.2
93.1
94.1
69.6
73.5
74.5
49.0
55.9
58.8
35.3
42.1
47.0
22.5
30.4
36.3
12.7
20.6
27.4
5.9
12.7
19.6
25
46
55
65
112.7
117.6
121.5
86.2
88.2
89.2
62.7
68.6
69.6
44.1
51.9
54.9
31.4
38.2
42.1
19.6
27.4
32.3
10.8
17.6
23.5
3.9
10.8
16.7
30
50
60
70
107.8
112.7
115.6
81.3
83.3
84.3
56.8
63.7
65.7
39.2
48.0
51.0
28.4
35.3
39.2
17.6
24.5
29.4
8.8
15.7
20.6
8.8
13.7
35
54
65
75
102.9
107.8
110.7
77.4
80.4
80.4
52.9
59.8
61.7
36.3
45.1
48.0
25.5
32.3
37.2
15.7
22.5
27.4
6.9
13.7
18.6
6.9
11.8
40
58
70
80
98.0
102.9
105.8
73.5
76.4
76.4
49.0
56.8
58.8
34.3
43.1
46.1
23.5
30.4
34.3
13.7
20.6
25.5
5.9
12.7
17.6
5.9
10.8
45
62
70
80
93.1
98.0
101.9
69.6
71.5
73.5
47.0
52.9
55.9
33.3
38.2
42.1
22.5
26.5
31.4
12.7
17.6
21.6
4.9
9.8
13.7
7.8
50
65
75
85
88.2
93.1
98.0
65.7
68.6
70.6
44.1
51.0
52.9
31.4
37.2
40.2
20.6
25.5
29.4
10.8
16.7
20.6
8.8
12.7
6.9
55
68
75
85
85.3
90.2
95.1
62.7
64.7
66.6
42.1
47.0
50.0
29.4
33.3
37.2
18.6
22.5
26.5
9.8
12.7
17.6
5.9
10.8
3.9
60
72 80 90
81.3
86.2
91.1
59.8
62.7
64.7
41.2
45.1
48.0
28.4
32.3
35.3
17.6
21.6
25.5
8.8
12.7
16.7
5.9
9.8
3.9