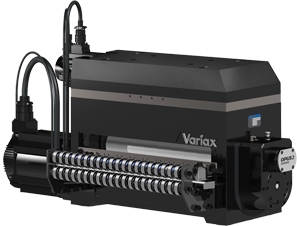 General-purpose servo feeder provides basic performance at low cost
The Variax OPUS 2 series are servo feeders for presses that are optimized for producing electric motor cores used in home electrical appliances, such as air conditioners and general-purpose motors.
Compared to our OPUS1 series high-end Variax model, this series is lighter and more compact.
Due to the use of dual roller drives, it offers stable material feeding of various materials (wide, thin, or soft materials) with a low gripping force.
Since the models in this series have a large opening and a detachable lower cover, the rollers can be cleaned easily.
OPUS2 Series(4 models)
| OPUS2-200 | OPUS2-300 | OPUS2-450 | OPUS2-650 |

Industry-leading world-class performance level
Built in preventive maintenance and diagnostic functions for IoT compatibility
Excellent operability with a security system
A wide range of display functions
Global support for many languages and services
Can feed wide, thin, and soft materials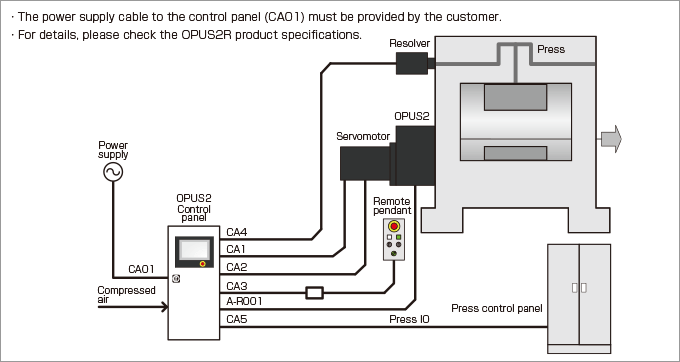 Motor core line for home electrical appliances(OPUS2, EVR2)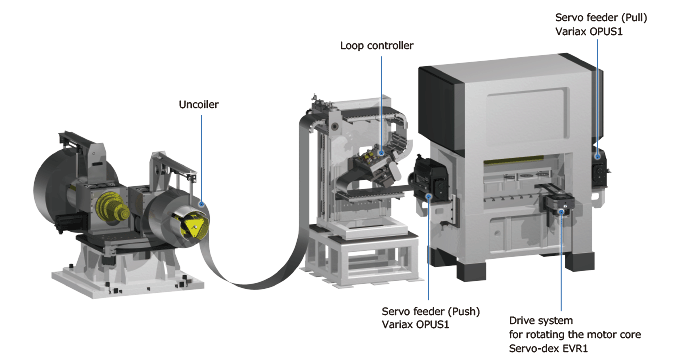 Control configuration diagram(OPUS2, EVR2)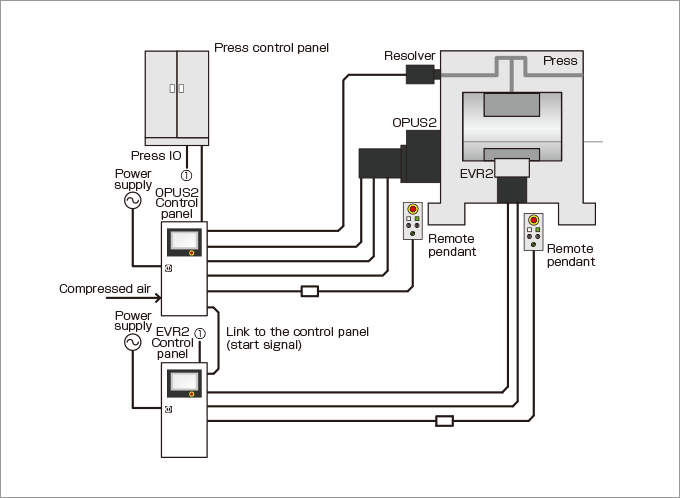 Specification table
Model name
Units
OPUS2-200/H
OPUS2-300/H
OPUS2-450/H
OPUS2-650/H
Feed length
mm
1 ~ 200(999)
1 ~ 300(999)
1 ~ 450(999)
1 ~ 650(999)
Material thickness
mm
max 2
Gripping force
N
min 1,500 ~ max 3,000
min 1,500 ~ max 5,000
Pilot release length
mm
0.1
Roll opening dimension
mm
max 2.5
max 2.5
Material width
mm
max 200
max 300
max 450
max 650
Maximum number of strokes
min-1
1,000
500
Minimum pilot release angle
deg
90
50
Maximum feed speed
m/min
3.0 kW motor: Up to 60m/min.:
7.5kW motor: 60m/min. or more*1
3.0 kW motor: Up to 60m/min.:
7.5kW motor: 80m/min. or more*1
Repeat accuracy
mm
±0.03
Operating air pressure
MPa
0.5 ~ 0.6
Paint color
N1.5(Black)
Product weight
kg
160
190
250
315
| | |
| --- | --- |
| *1 | Please check the separate feed capacity diagram. |