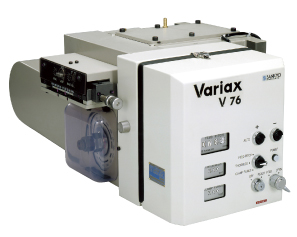 The Variax V Series is a high-performance cam-actuated variable roll feed that uses fan-shaped sector rolls and four cam mechanisms. It offers unparalleled accuracy and convenient design features for ease of operation and use. Numerous technical innovations have made the V Series the choice feeder for stamping lines all over the world for more 20 years since its inception. Innovations such as dual-driven rolls, parallelism adjustment for the rolls and brake, and an absolute digital counter for precise feed pitch display are just a few examples. Sankyo has also developed newer models that are even easier to operate and handle while meeting specific needs, such as wide stock handling ability and advanced functionality.

High Reliability
Cam-actuated for excellent reliability.
Easy to Adjust
Push button operation for easy adjustment of feed pitch, material thickness, and grip force.
Also features parallelism adjustment for rolls and brakes.
Impressive Installed Base
The V Series has the longest history as an individual feeder with an impressive track record.

Motor cores
Connector
IC lead frame presses

V Series General Specifications
Size
Unit
V76
V127W
V230W
Feed Pitch
mm
0 to 76.2
0 to 127
18 to 230
Material Thickness (Note 1)
mm
0.3 to 3*
0.3 to 2*
Material Width
mm
10 to 120
30 to 245
30 to 370
Grip Force
N
300 to 3000
500 to 5000
1000 to 30000
Max Strokes
min-1
1500
1000
600
Max Feed Rate
m/min
70
90
Feed Angle
deg
165
180
Repeatability (Note 2)
mm
±0.025
±0.03
Pilot Release
(°)
Approx. 49
Approx. 46
Operating Air Pressure
rpm: s
490 to 690
Hydraulic Pressure
kPa
290 to 490
Oil Flow Rate
l/min
1.5 to 2.2
Lubrication
Forced supplied lubrication
Power Supply
V
100 VAC single phase, 50/60 Hz or 115 VAC 60 Hz
Product Weight
kg
250
400
1300
| | |
| --- | --- |
| Note 1) | Contact Sankyo for material thicknesses of more than 1mm. |
| Note 2) | Feed accuracy varies according to actual operating conditions. Figures listed here are for reference only. |