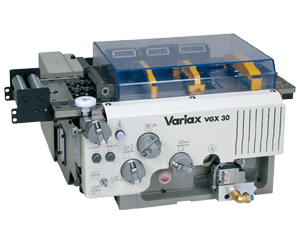 The Variax VGX Series is a coil feeder for presses that inherits the high level of accuracy of our top-selling VG Series.
Material thickness, feed pitch, and release timing are easy to adjust, even during operation.

Wide Product Lineup
Available in a wide range of models and sizes, and designed to meet various feeding conditions.
Ultra-high-speed Feeding
Capable of ultra-high-speed feeding rates of up to 2,000 spm (model VGX30).
Many Adjustable Features
Adjustment dials used for all adjustments (push buttons used on the VGX350)
with digital readout for material thickness and release position.
Handles Various Materials
Inherently designed to feed irregularly shaped material, soft material, and processed material.

Connector
IC lead frame presses
Beverage can presses

VGX General Specifications
Size
Unit
VGX30
VGX60
VGX100
VGX350
Feed Pitch
mm
0 to 30
0 to 60
0 to 100
** 50 to 350
Minimum Increments for Feed Pitch
mm
0.005
0.01
Material Thickness (Note 1)
mm
0.1 to 2
** 0.1 to 1
Grip Force
N
1700
5000
Material Width
mm
8 to 100
70 to 420
Max Strokes
min-1
2000
1500
1000
300
Max Feed Rate
m/min
50
90
Feed Period
deg
156
165
165
165
Repeatability (Note 2)
mm
±0.025
±0.08
Pilot Release
(°)
Approx. 51
Approx. 49
** Approx. 46
Input Shaft Drive Ratio
rpm: s
1: 1
*2: 1
Operating Air Pressure
kPa
490 to 690
Hydraulic Pressure
kPa
290 to 490
Oil Flow Rate
l/min
0.4
1.5
Lubrication System
Forced supplied lubrication
Power Supply
V
100 VAC, single phase
Product Weight
kg
95
750
* Requires two turns of the input shaft to make one feed motion. ** On the VGX350, the adjustments for feed pitch, material thickness, and release position are push-button adjustments.
Note 1)
Contact Sankyo for material thicknesses of more than 1mm.
Note 2)
Feed accuracy varies according to actual operating conditions. Figures listed here are for reference only.