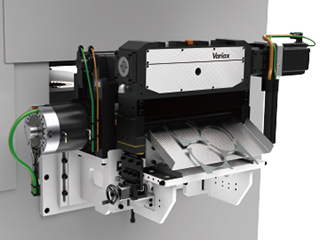 World's thinnest scrap cutter
The SCR series is a scrap cutter that uses the thinnest cutting mechanism (160 mm) in the world.
Since it is the thinnest, it can be installed close to the feeder, which reduces problems when transporting skeleton materials for conventional products, making synchronized high-speed press operation possible.
SCR Series(2 models)
| SCR2-450 | SCR2-650 |

Compact
Has the world's thinnest cutter (160 mm). Saves space and speeds up press line operations.
Stable cutting
It offers stable cutting of thin plate materials thanks to its back stopper.
Maintenance
Easy replacement of cutting blades.
And…
The cutting position can be adjusted.

Monitoring function
You can check the motor torque on the monitor while cutting (touch panel)
Set up position adjustment
The cutting position can be adjusted.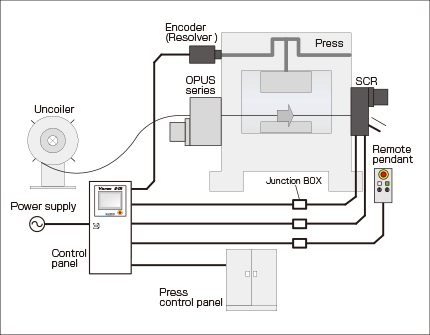 SCR General Specifications
Unit
SCR2-450
SCR2-650
Maximum cut
material width
mm
450
650
350 (30° setting)
470 (30° setting)
(Cutter width: 510)
(Cutter width: 660)
Material thickness
mm
0.1~0.5
0.1~0.5
Cut off load
N
40,000
40,000
Stripper load
N
6,000
6,000
Synchronized speed
min−1
500
500
Servomotor
YASKAWA
Mass
MPa
240(main housing only)
260(main housing only)