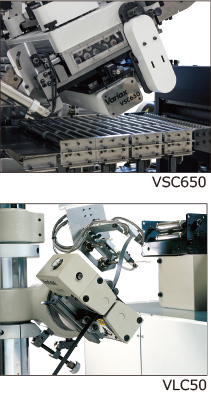 The NC Loop Controller is a unique product developed to condition loop stock for material feeding by restricting the material's freedom of motion. No other device works the same way. Servomotors control the amount of rotation of the drive rolls while sensors and our dedicated servo controller stabilizes the loop into an optimum shape. This reduces flapping in all speed ranges. The material is delivered to the feeder without scratches, creases, or markings, thus improving the quality of the finished product and the productivity of the line. Small footprint design makes it easy to install.

Excellent Stability
Keeps material from flapping when fed at high-speeds.
Maintains material in an optimized loop.
Easy to Adjust
Offers a touchpanel display for easy modification of feed parameters.
Also Performs Leveling (VSC Series only)
Straightens kinks and winding tendencies in material.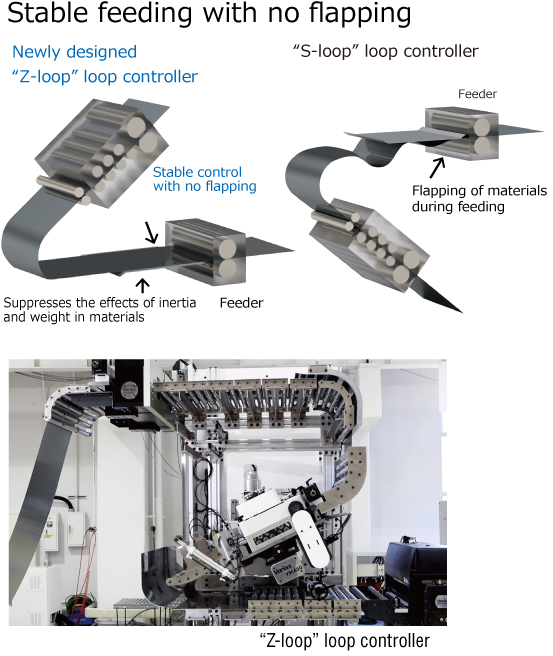 VSC Series General Specifications
VSC70
VSC150
VSC400
VSC650
Feed Pitch
mm
0~999
1~999
Material Thickness
mm
0.2~1.0
0.15~0.5
Material Width
mm
max.70
max.200
150~450
150~650
Grip Force
N
350*1
700*1
1,700*1
1,700*1
Max. Feeding Speed
min-1
100
120
Operating air pressure
m/min
0.4~0.5
Product weight
kPa
320
350
3,800
3,850
| | |
| --- | --- |
| *1 | Listed grip forces above are correct with a pneumatic pressure of 0.4MPa |
| *2 | A Z-type loop is used |
VLC Series General Specifications
VLC50
VLC200
VLC450
VLC650
Feed Pitch
mm
0~999
1~999
Material Thickness
mm
0.2~1.0
0.15~0.5
Material Width
mm
max.50
max.200
150~450
150~650
Grip Force
N
350*1
1,500*1
4,000*1
4,000*1
Max. Feeding Speed
min-1
150
100
120
Operating air pressure
m/min
0.4~0.5
Product weight
kPa
250
285
3,680
3,730
| | |
| --- | --- |
| *1 | Listed grip forces above are correct with a pneumatic pressure of 0.4MPa |
| *2 | A Z-type loop is used |